Introducing: Perit David Xuereb
We are honoured to introduce Perit David Xuereb to the Green Deal Malta platform! In his message, David notes that 'sustainability' is a commonly used word; sometimes overused, misused, and not always understood. David says a few words about how the COVID-19 pandemic has given us an opportunity to stop, think, and sometimes re-think our lifestyle choices, and this includes respecting the resources which we make use of. David believes that this exercise of thinking will lead to a wave of unprecedented economic generation that is second to none. David also believes that the key to success in this regard is to be ahead of the curve, and not to be in 'catch-up' mode. Watch Perit David Xuereb's message now to find out more!
The Green Deal is a big deal. Let's make it ours. I've already made it mine.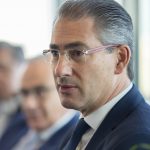 An architect by profession, David led the largest professional services companies in the industry of the built environment with offices in many parts of the world. He is mainly inspired by responsibilities and opportunities of the low carbon economy and has lectured and provided presentations and papers in various institutions and universities. David led the Malta Chamber of Commerce Enterprise and Industry as its President until March 2021.  He is a director on Malta Enterprise, the Building and Construction Authority, the Climate Action Board and a number of private businesses.