Opening Feature: Hon. Minister Miriam Dalli
As our Opening Feature, we are honoured to introduce Malta's Minister for Energy, Enterprise and Sustainable Development to the Green Deal Malta platform, Hon. Minister Miriam Dalli. In her message, Dalli speaks about sustainability, and it's three main pillars, namely enhancing economic growth, safeguarding our environment, and increasing social cohesion and well being. Dalli notes that Malta must push towards a circular and low-carbon economy, driving us towards a greener economy. "The opportunities are right in front of us- let's take up the challenge, and let's deliver together". Watch Hon. Minister Dalli's message to find out more!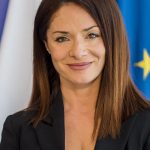 Dr. Miriam Dalli has a track record of promoting sustainability, both in her current role as Minister and as a former Member of the European Parliament. As Vice President of the Social Democrat Group in the EP, Dr. Dalli was responsible of the European Parliament's position on the European Green Deal. She worked on legislations directly related to climate change and policies that ensure competitiveness and sustainability in industry and transport. In 2019, she was the only MEP to be named among the 28 most influential people in the EU by Politico, whom they described a doer and an eco-warrior. Miriam Dalli negotiated the EU legislation to reduce CO2 emissions from cars and vans by 2030 and legislations to reduce emissions from different sectors known as the Effort Sharing Regulation and the Emission Trading Scheme and worked on the EU's regulations on the phasing out of single-use plastics, the phasing out of certain pesticides like glyphosate and the ban on pesticides harmful to bees. As the Minister responsible for Energy, Innovation and Sustainable Development, Miriam Dalli has sustainability and the transition to clean energy and the green economy among her top priorities.